Specifications
Button: Middle
Laser Color: Blue
Body Color: Black
Wavelength: 445nm~450nm
Preheat time: < 3 seconds
Beam style: Continuous Line
Actual output Power: 3000mW
Power Supply: 2x 18650/26650 Battery
Working Voltage: DC=7.2-8.4V
Laser Range: 8000 Meters (5 Mile)
Working Temperature: +15℃~+35℃
Storage Temperature: -10℃~+40℃
Package List: 1 x Blue Laser Pointer, 2 x 18650 Rechargeable Battery, 1 x Battery Charger, 1 x Goggles, 1 x Aluminum Box, 1 x Instruction
Burning laser pointer is a high powered laser flashlight that usually comes with an adjustable focus, by concentrating the laser beam into one laser spot, which enables you to accumulate laser energy and burning up stuffs.

The most powerful portable laser pointer in market is made in flashlight hosts, with extra cooling system, briday 980 series laser pointers utilize detachable sections for extra 18650 batteries and inside cooling system, the power output can be up to 1000 - 5000mw on our different models, it's the most powerful handheld personal laser possible, the higher power output, the easier temperature goes up.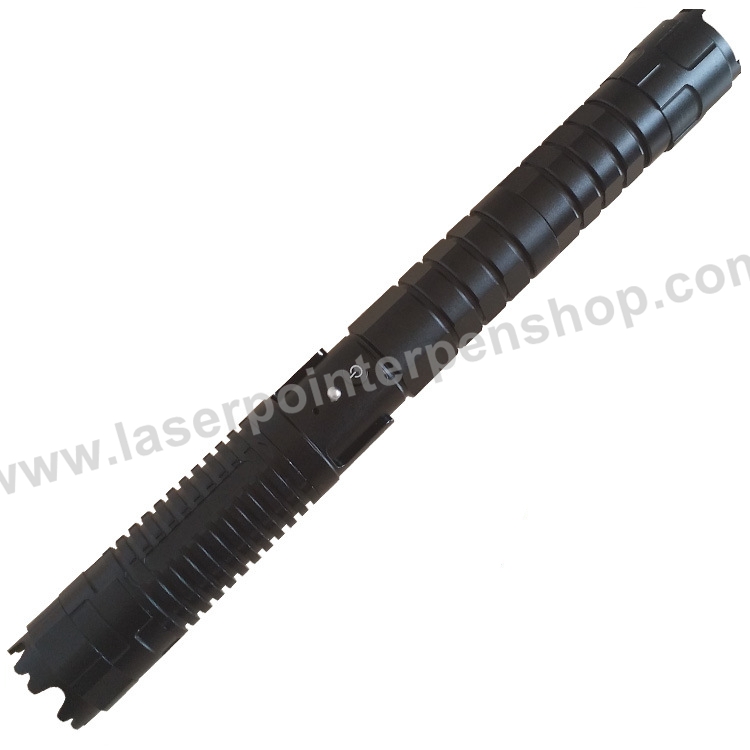 Features:
1. Portable size and science shape design.
2. Simple and easy to use.
3. Across the sky, allowing you to find the stars in the fine days, is the leader in the vast sky.
4. This high quality laser pointer adopts the latest technology optics and microelectronics.
5. The copper at the end is fixed by aluminum sheet, which avoids short-circuit.
6. Fixed focus, with safety glasses, Adding extra cooling system.
7. Well tested and high quality blue laser beam pointer , Clearly visible the blue beam in the dark.
8. Please read the instructions carefully before you playing or charging.
Warnings:
a. Never Point to the people or animal for it is really strong power!
b. Laser radiation, Never look directly into the blue laser beam, Never pointer a blue laser beam at a person.
c. Do not aim the blue beam at reflective surfaces
d. Do not allow children to use blue laser pointer.
e. Please don't keep it on for a long time, the laser is high power and get hot easily. So it is recommended to limit it to 30 seconds or less per use to avoid heat buildup. Once you feel the laser get hot you'd better let it have a rest.
f. When not in use, it is a good idea to remove the battery and keep it safely.
g. If you find that the brightness of laser beam is getting seriously weaker, please recharge the batteries.

Why Choose LaserPointerPenShop.com
- Professionality, we know and choose for customers;
- Multiple superior quality hosts, portable, better cooling and nice-looking;
- Power output guarantee, get rid of cheap and low power products;
- Multiple Shipment options, Normal free shipping or expedite shipment for your choice;
- 30 Days Money Back Guarantee;
- 24 hours customer support with email or instant online chat.